I Don't Have Time!!!
Please! When we say we don't have the time to do something, what we are really saying is that we chose not to do it. We all have the same number of hours in a day. The only difference is how we spend them. Let's face it. If top producing sales people can find the time to prospect, so can you. The key is how you plan your work.
You should schedule a certain amount of hours each day for lead generation, and preferably at the same time each day so you can develop a routine. Treat prospecting like a scheduled appointment, just as you would a meeting with a prospect. You wouldn't consider canceling a customer call; therefore you shouldn't cancel on yourself and your future sales success by failing to complete your prospecting activities.
You need allocate the correct percentage of time for sales planning, growing existing customers, winning back old customers and prospecting for new accounts. The different percentage splits will depend on your specific mix of business and how many current clients you already have versus prospects.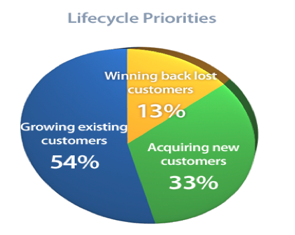 When you prospect this week and every week, you should look to fill the holes in next week's calendar. New meetings should be booked in the same geographical locations as the existing ones to minimize unproductive travel time.
Proper planning this way will allow you fit more into your sales day. It will also free up some personal time as well. Remember that work out you never seemed to have time for? Schedule it!
As one of my clients put it, "This type of planning has helped me make more appointments; close more deals and make more money . . . The 3 most important concepts in sales."
So stop dreaming more time will magically arrive in your day so you can prospect, and make it happen instead. Remember as Eleanor Roosevelt once said, "It takes as much energy to wish as to plan."


TOUCHPOINT TOOLKIT
SALES CLUB MEETING
Thursday, June 13
5:30-8:00 PM

South Beach Harbor
Community Room at Pier 40A
San Francisco, CA
Member $25, Non-Member $50

Shaping our personal brands and company offerings through multiple channels of communication is key to forming valuable relationships. Join us as a panel of print sales professionals and print buyers address the following communication toolkit touchpoints: beating voice mail, answerable emails, resourceful social media, neighborhood visits and effective snail mail.

SEMINAR SESSIONS
Wednesday, June 13
Topic 1 - How the Experts Earn Long-Term Accounts 2:30 - 3:30 PM
Topic 2 - Up-Selling: It Can Be Done! 4:00 - 5:00 PM
South Beach Harbor
Community Room at Pier 40A
San Francisco, CA
Member $50, Non-Member $100

Friday, June 14
Topic 1 - How the Experts Earn Long-Term Accounts 8:30 - 9:30 AM
Topic 2 - Up-Selling: It Can Be Done!10:00-11:00 AM
AdMail Express
31640 Hayman St
Hayward, CA
Member $60, Non-Member $120

Download Flyer


Focus Point
25. Make the most of your time in the office.
The next couple of points deal with the time we spend in and out of the office. While we want to be cordial and respectful to others in our office environments, we also need to focus on what truly benefits us - making sales! So be careful not to get caught up in office politics or too many administrative tasks. Keep your eye on the ball and make every minute count. For the beginning real estate sales person, covering the floor calls makes sense. It is an obligation that is usually equally shared (at least by the newer associates who need to find potential qualified buyers). However, be sure and get out of the office so you can spend "face time" with your best clients and when you are in the office, focus on your sales calls and other sales-related activities that can help you exceed your sales goals.




Learn more about Leslie


Click here to see video



Leslie named Leadership Excellence Top 100


Upcoming Events

Click here to see event schedule


Leslie's book



Click here to buy now


Talk of the Town



Click here to see Leslie's Interview


Washington Post



Click here to read the article