---
Printing Industries of America Launches Power Selling Program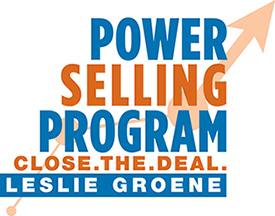 Warrendale, PA, August 28, 2015—Printing Industries of America (PIA) proudly announces the launch of the Power Selling Program. This eight-week turnkey training program features a unique combination of online training, weekly student projects and live coaching sessions with the sales coach superstar, Leslie Groene. Through the new program, printing firms have the opportunity to enhance their sales revenue by improving the effectiveness of the sales team.
The goal of the Power Selling Program is to energize a company's sales associates, sales managers, and senior executives. The Program promises to expedite onboarding of new sales staff, increase sales results of existing staff through training delivered in a cost effective and efficient way. Participants attend personalized weekly coaching session with Leslie Groene where they can ask questions and get answers in real time.
"Leslie Groene is a highly respected sales coach. Her background in the paper and printing industries as a very successful sales rep and team leader makes her the ideal mentor to help your sales team develop a razor focus on revenue generation and profit growth," said Julie Shaffer, Vice President, Digital Strategies, Printing Industries of America.
Although PIA members receive significant savings on the Power Selling Program, the package is also available to nonmembers. The program kicks off on October 12, 2015 and because there are private coaching sessions, participation is limited.  For more information on the Power Selling Program, or to register, visit www.printing.org/powerselling.
About Printing Industries of America Printing Industries of America, with local affiliated associations, delivers services and products that enhance the knowledge, growth, and profitability of members through advocacy, research, education, and networking.
Program Contact
Joseph Marin
+1 412-259-1730
---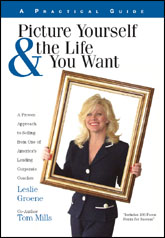 Picture Yourself & the Life You Want is a practical and inspirational guide to getting what you want in your life. This book will help you get back in touch with that part of you that is not afraid to pursue your dream, whatever that dream may be! Leslie Groene walks you through a simple process for tapping into your inner resources and unleashing the passion you have for excellence. Picture Yourself & the Life You Want provides you with a framework and foundation to build upon and guides you step by step through the choices that will confront you in your sales and work career.
What others are saying about the book:
Leslie Groene's "Picture Yourself & The Life You Want" is a concise overview of the life insights of someone who has "walked the walk" not just "talked the talk".
Robert Lindgren, President, Printing Industries of America Southern California
Leslie combines an impressive track record of sales achievement with a unique talent of deciphering the most important skills needed to succeed and dispenses some of the best sales advise available today. Owners, sales managers, and sales people alike have all responded to her style and substance with excitement and proven results. If you want to grow your business, read this book!
Jeff Housman, Account Executive, AGT
Leslie has turned her own exceptional skills into tips for Top Reps and those-who-want- to-be. I have witnessed firsthand Leslie's commitment to her clients and their success (a secret to her own success). She is a master of goal setting and more, importantly, follow through. Stop waiting to be successful, start reading·
Alan Bernstein, Sales Manager, PaceNavigator
My colleague and friend, Leslie Groene, has always been a "bottom-line" person. She is driven by a unique and intense passion not only to succeed in her own life, but to facilitate the success of her coaching clients and those around her. This book captures that spirit and delivers it in a captivating manner to the reader!
Carol Geddes, President, Penn Litho and Fulfillment
Let's face it, in today's competitive world we all need to focus on business development and know how to sell. Reading and applying the principles of this book will help you take the first step towards realizing the success that you deserve.
Donna Hansen, Partner, KPMG